Twelve-year-old Anisha(name changed) called Apne Aap a few days after the announced Junta Curfew on 23rd March 2020. The soft voice of the little girl on the other side of the phone was full of distress and panic. She somehow managed to inform that her family had not eaten for 4 days while gasping for breath. They lived in a red light area of Delhi.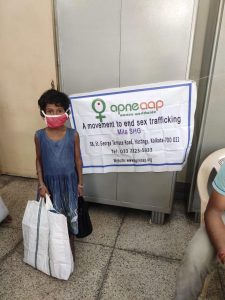 Ruchira asked what they needed. She made a list in her child-like handwriting on a page from her school exercise copy and sent it. Apne Aap volunteers quickly mobilized the essentials and reached to feed the starving mouth of that little 12-year-old.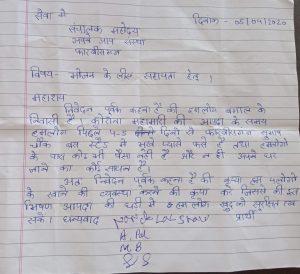 Since that day, Ruchira's phone never stopped ringing. The distressed calls kept coming. From Delhi, Kolkata, Bihar. The homes in red lights areas are clustered, stingy, damp, suffocating, and even without windows at times. They have no space or air to breathe. They mostly do not have access to clean running water. Brothels are located in congested spaces with little scope for hygiene.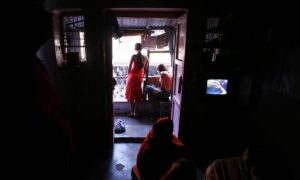 With the government imposed lockdown, it has been disastrous for the prostitutes. They are barely able to make the ends meet for their families, children. They are living out of their meagre savings. There has been a complete shutdown of their business. The situation seems to continue even after the lockdown will be lifted. Their children will have to drop out of schools. They hardly have food for their families to sustain. It has been exceptionally hard for victims of sex trafficking to just sustain their existence. They are in dire need of food and basic sanitation facilities.
Sarita lives in a ward no 9 slum in the red light area around north Kolkata. She told us in Hindi, 'No one has helped us with anything since the lockdown. We are starving.' Her face gleamed with hope as we handed her the food rations for her family.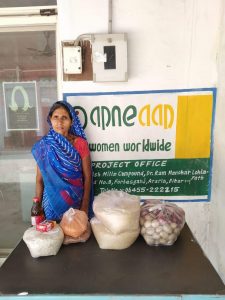 Many others held hands of our on-ground volunteers, thanked them and just said, 'Please keep sending the supplies. We will not survive without them.' Women, children grabbed the essential supplies brought by our community mobilizers. Their eyes shone with hope. That is what motivates and inspires everyone at Apne Aap to work tirelessly for them.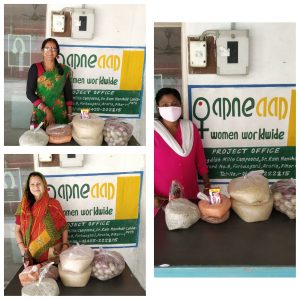 Being victims of sex trafficking, these women and children are already physically and emotionally abused. Their bodies bear testimony to the trauma of their sufferings. They live in un-livable conditions. Starvation and lack of hygiene have just added on to their miseries.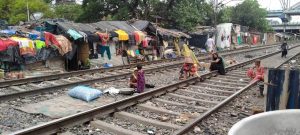 Project 1 Million Meals aims to serve one million meals and hygiene packs to 10,000 victims of sex trafficking. The project will cover 2,500 women and 7,500 children of red light areas of Delhi, Kolkata and Bihar. The project is providing food ration ad basic hygiene facilities like soap, mask, basic medicine, sanitary pad. Till the last week of April 2020, around 80,000 meals have been distributed to around 900 families across red light areas in Delhi, Bihar and Kolkata.